US Jewish groups call on Gov. entities to 'speak out' against antisemitism
AJN.- This latest wave of threats comes after over five others in January and February, with a total of 89 incidents at 72 locations in 30 states and 1 Canadian province.
AJN.- Jewish organizations expressed their outrage on Monday after yet another rash of bomb threats called into Jewish Community Centers and Jewish day schools and called federal authorities to speak out against the phenomenon.
Some 21 such incidents were recorded on Monday affecting 13 JCCs and seven Jewish day schools in Alabama, Delaware, Florida, Indiana, Maryland, Michigan, New Jersey, New York, North Carolina, Pennsylvania, Rhode Island and Virginia.
This latest wave of threats comes after over five others in January and February, with a total of 89 incidents at 72 locations in 30 states and 1 Canadian province.
In addition, two Jewish cemeteries were vandalized in the past week, in St. Louis and Philadelphia.
While all institutions affected Monday have received been cleared by local law enforcement, director of strategic performance at JCC Association of North America David Posner said that "anti-Semitism of this nature should not and must not be allowed to endure in our communities."
"The Justice Department, Homeland Security, the FBI, and the White House, alongside Congress and local officials, must speak out – and speak out forcefully – against this scourge of anti-Semitism impacting communities across the country," Posner added. "Actions speak louder than words. Members of our community must see swift and concerted action from federal officials to identify and capture the perpetrator or perpetrators who are trying to instill anxiety and fear in our communities."
Posner also maintained the JCC Association is grateful to local law enforcement for their response to the threats.
The Anti-Defamation League, which has also been targeted by a bomb threat its headquarters last week, has issued a security advisory to Jewish institutions across the country with guidelines on actions they can take if faced with such threats and how to protect Jewish institutions.
"While this latest round of bomb threats to Jewish Community Centers and day schools across the country again appears to not be credible, we are nonetheless urging all Jewish institutions to review their procedures," ADL CEO Jonathan A. Greenblatt said.
The International Fellowship of Christians and Jews, which has 1.6 million Christian donors in North America and around the world, also issued a statement condemning the latest anti-Semitic attacks nationwide, urging Christians and Jews to "build bridges in response to hatred".
"We have heard from so many of our Christian brothers and sisters expressing their profound dismay at the recent rise of anti-Semitic and hate crimes nationwide, and offering their love and support," President and founder of The Fellowship, Rabbi Yechiel Eckstein said. "Hatred only reinforces our mutual determination and resolution to continue building bridges between Christians, Jews, and other faith communities, each and every day, to counter anti-Jewish bigotry."
Through a social media campaign, the Fellowship has collected more than 10,000 signatures from Christians condemning anti-Semitism in a letter titled "We stand with the Jewish community against anti-Semitism". The group plans to ultimately present the statement to President Donald Trump.
"As a Christian and supporter of The Fellowship, I stand with the Jewish people as they endure rising attacks and displays of anti-Semitism in America and abroad," the letter said. "Never again will we remain silent in the face of such threats. We stand side by side with our Jewish brothers and sisters in deploring the attack on the Jewish cemetery in St. Louis, threats to Jewish Community Centers, and other such attacks."
"We declare that there is no place in America for hatred, even as we pledge to build bridges of love, healing, and unity in our nation," it continued.
Argentinian President Macri visited the historical synagogue of Basavilbaso
AJN Agency.- Only a few days away of Rosh Hashana and with Iom Kipur coming soon, Mauricio Macri, President of Argentina participate of the meeting at the synagogue Tefila L'Moisés at Basavilbaso, Province of Entre Ríos.
AJN Agency.- The argentinian President, Mauricio Macri, assisted to the Synagogue Tefila L' Moisés de Basavilbaso, one of the olders of Argentina, making himself the first argentinian president in visit that synagogue.
Macri send his best wishes for the jewish new year celebration and added: «I want to thank you for reciving me here, in your home. For us it has been very important this years working with the community».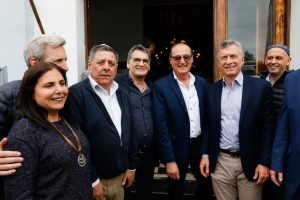 Claudio Avruj, secretary of Human Rights of Argentina discribed that the visit of Macri «Represents with out dudes a huge tribute to the jewish inmigration in the historic colonies of Entre Ríos and a deep recognition to the permanent support to the development of the local communities».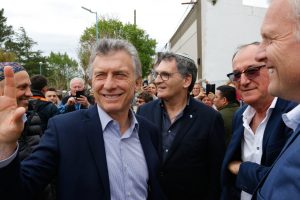 At meeting were present the Rabbi Sergio Bergman, secretary of goverment in Environment and Sustainable Development, and the Minister of Interior, Public Works and Housing of Argentina, Rogelio Frigerio, among others.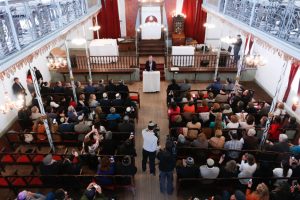 In a letter written by Avruj, he assured his pride for the president and remarked the pluralism and respect of Macri.
Antisemitism/Argentina. The increase in antisemitic incidents is "fierce"
Agencia AJN.- The Asociation of Israeli Delegations in Argentina (DAIA) qualifies as «fierce» the increase in the number of antisemitic incidents in Argentina, after the anual report over the 107 percent increase during 2018 in comparation with the previous year.
Agencia AJN.- This way was how the president of DAIA, Jorge Knoblovits, present today the details of the anual report of antisemitism, in a reunion realized in the Centro Cultural Kirchner of Buenos Aires.
Anyway, the communitarian leader said that "It is not fierce only in Argentina, it is fierce worldwide".
"I start with an autocritic: with the results of the investigation and the results of the center of social studies, the increment of heat speeches and antisemitic acts that DAIA registerd, I think we hadn´t done enough for the memory and fighting the hate speeches beacuse the increase is fierce", added Knoblovits after presenting the document.
Also, he remarks that "in Europe, reciently The Economist determines that 34 percent of europeans, where Shoa took place and where 6 millions died, dosen't registres what Holocaust is".
"In Argentina, being antisemitic and discriminating is a crime. He is punished by the Law. It is a great achievement, beacuse the communities live in peace and we know that discrimination is a crime", highlighted the president of DAIA.
In this track, he describes that the increase of 107 percent had impulsed DAIA to develope "an app for people to can denunce this acts, not only antisemitic, any time of discrimination".
"Also, whe put totems in subway, bus and train station, and in shopping for people to register that there is a place for register the denunces that are wecolme», afirms.
Knoblovits sustain that "many of the denunces" recibed where judicialized. "The sensation that I have is that we give judicial fight, but we are losing the culture fight. That's the battle that we don't want to lose. Inside the culture field, we are gonna do everything possible so we don't have never again discrimination acts in Argentina, or at least those are gonna be fighted by us", concluded.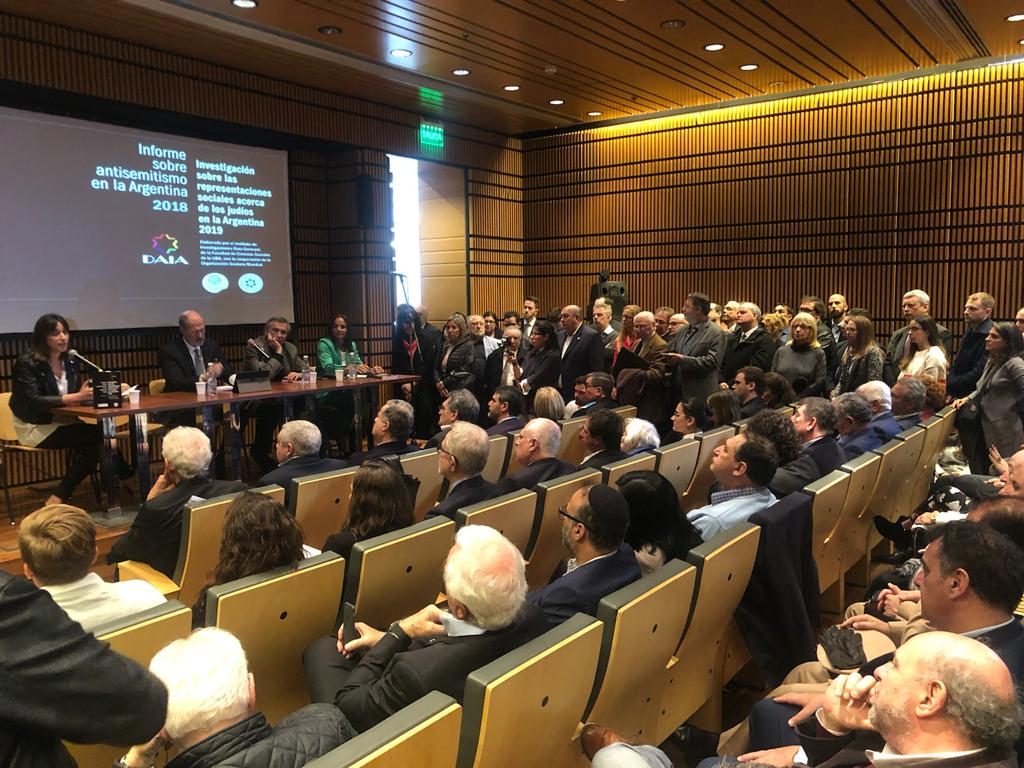 Following the report, there had been 834 antisemitic acts in 2018, in comparation with the 404 reported in 2017.
The estadistics and investigation will be presented by DAIA and INADI (National Institute against Discrimination, Xenophobia and Racism).
The anual report of antisemitism was realized by DAIA with the Gino Germani Institute and the Center of Social Studies.
This year is the number 20 since the fisrt anual report published by the political organization of the argentinian jewish community, that stablished that practice in 1998.
Report shows that 68% of the incidents had place in Buenos Aires, and 32% where in the rest of the country. About the 834 reported incidents, DAIA said that 71% happend online, mostly in web sites, and 17% of that number appeares in social networks.
The report also shows that 27% of antisemitic material online had xenophobia against jews, while 18% was pushed by the events that took place in Middle East, 17% had relation with nazi simbology and jewish world domination conspiracy among other misconceptions.
Gino Germani Insitute present a poll of social perceptions of Jews in Argentina.
The poll shows that 53% of 1443 people interviewed agrees that there is discrimination against jews, while 87% didn't know what it was the zionism.
The Report remarks that 61% agreed with the antisemitic prejudice of the «influence» of jews in international markets and 47% belives that jews are the first in not helping people in need.
The information for this poll was collected between June and July of this year.
In the presentation of the report, will join Knoblovits, the president of the Conferencia Episcopal Argentina y the bishop of San Isidro Monseñor Oscar Ojea, Néstor Cohen, who runs the investigation of Gino Germani Institute, the director of Social Center, Marisa Braylan and one of the principal investigatores, Verónica Constantino.